Mapit Spatial is a GIS app designed to support GPS/GNSS data collection and any kind of GPS/GNSS based surveys. It's a mobile GIS tool for land and field surveyors and anyone dealing with environmental and GIS data. Mapit Spatial makes GIS data collection or field survey process faster and more efficient.
App can be also used as a measurement tool to calculate areas or distances.

The app is designed similar way as original Mapit GIS app, so users familiar with the workflow should be able to adopt quickly to some changes in the functionality, for example the attribute set field can now be linked to particular feature layer field, so fields from different attribute sets can be utilised in the same layer.
Some functionality like mbtiles offline maps, online services (WMS, WFS, XYZ etc.) are working exactly the same way as before.
Mapit Spatial uses geopackages as the data source, and user can easily swap between different geopackages which can be treated as separate projects. Each geopackage can contain set of feature layers as well as tiled layers which can be displayed on top of the online basemap.
During the installation there is a folder structure created on the DEVICE MEMORY -> Mapit-Spatial where all application content is stored.
The geopackages can be created within the application or utilise externally created files by desktop GIS applications like qGIS – they must be placed in:
DEVICE MEMORY -> Mapit-Spatial ->Geopackages folder.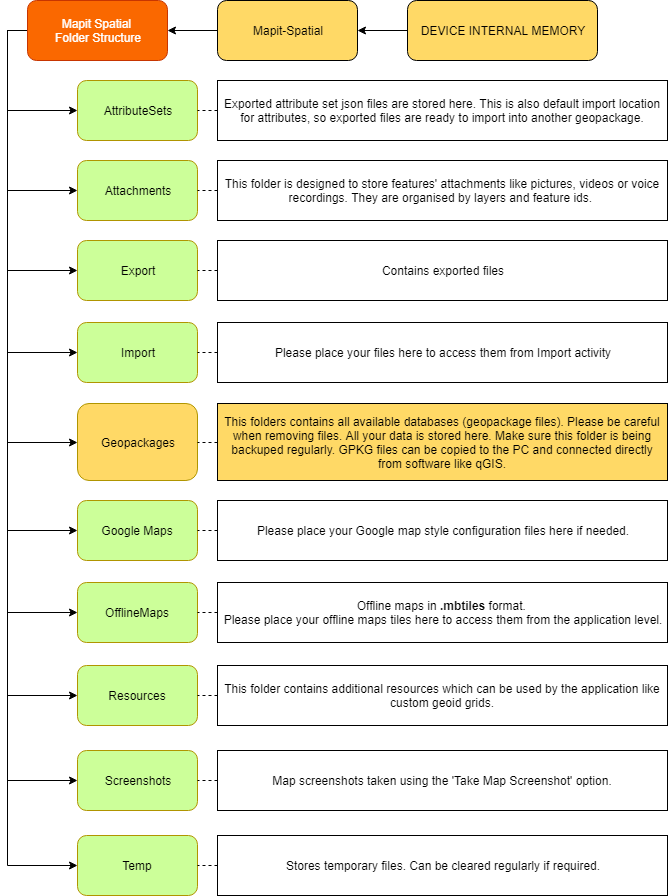 Geopackages placed in the above folder are being recognised by the app and can be accessed by selecting Geopackages option from the app navigation drawer.
The Geopackages sections contains 2 tabs. On the first tab user can select active geopackage and on the second tab user can make one layer active and one or more layers visible.
When geopackage is set as active user can create Attribute Set and underlying fields in Manage Attributes section of the app. Following the creation of the attribute set user can link individual feature layer field (Edit Layer screen) with relevant field in the Attribute Set. If the field is not linked, it will be available as an entry text box on the 'Add/Edit Feature' screen – the entered data will be converted to relevant underlying field's data type.
When the field is linked to the attribute set during the feature creation user can simply choose required attributes from defined drop-down list, multiselect list or use barcode scanner to enter the values. There is no need to type the same information over and over again.
If you are working in the field, gathering large amount of spatial/location based data this app is designed for you.
Mapit Spatial is a perfect app for anyone involved in forestry, agriculture, environmental or farming business and allows quick collection of spatial data without the need of typing similar information number of times.
The video below shows the idea of linking the layer (database) fields with Mapit Spatial (attribute set) fields – which effectively allows you to gather the data using the easy to fill in forms containing dropdown lists, multi selection lists, barcode scanner field, boolean values, calendars etc.
This article will be extended in the near future and will demonstrate how to create simple environmental survey, so you can understand in a better way how the app works and how you can adopt it to meet your needs.
There will be also more content added on our website in the following weeks dedicated to particular sections of the app.
Please note: Not all original Mapit GIS functionality is available at the moment in Mapit Spatial and we do plan to match it by the end of June 2019.
If you have got any questions – please use contact form to send us an email or ask in the comments below this article.